Taking care of someone with an eating disorder can be physically and emotionally exhausting so it is important to take time to look after yourself. For someone to recover from an eating disorder they have to want to. No matter how much you love them, you cannot do this for them. However, the ongoing support and encouragement from family and friends when motivation is wavering is really important in the process of recovery and can make a real difference.
You might find some of these tips useful:
• Try not to blame the person or be judgmental. Tell them you're concerned and want to help, though be clear about what behaviour you won't tolerate; there are still
boundaries. They don't have the right to hurt other people even when they are having a difficult time.
• Remember that recovery isn't easy and will take time
• Praise any positive efforts.
• Avoid making comments about appearance.
• Keep telling the person how much you value them.
• Try not to engage in soul-searching for the reasons behind the eating disorder, try to plan what to do next.


Beat – Eating Disorders is a UK Charity that describes itself as 'a champion, guide, and friend to anyone affected' by eating disorders. They have an excellent website that provides materials to support treatment and recovery, an up to date directory of resources across the UK and a wealth of information for carers, including information about how to access an assessment of your own needs and how access to a range of support groups including on line support groups. Beat is therefore a great place to start with regards to accessing help
Click on the link opposite to access the Beat website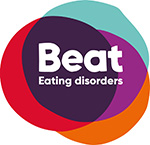 Remember there is no shame in seeking support – in order to best support someone else you need to feel well yourself therefore it is vital to ensure that you make some time for yourself.
British Association for Counsellors and Psychotherapists
Search for therapists in your area. Visit www.itsgoodtotalk.org.uk.
Carers Direct
An NHS service for carers. Visit www.nhs.uk/carersdirect or call their helpline on 0300 123 1053.
Carers Trust
A charity offering support to carers. Visit www.carers.org.
Carers UK
A charity supporting carers. Visit www.carersuk.org or call their helpline on 0808 808 7777.
Childline
A charity offering support to children and young people, including young carers. Visit www.childline.org.uk or call their helpline on 0800 1111.
Citizens Advice Bureau
For enquiries about legal rights and responsibilities, benefits for carers, and financial advice. Visit www.citizensadvice.org.uk.
GOV.UK
Contains information about support services, both your rights and those of the person you're supporting, and more on the laws that may be relevant to you. Visit www.gov.uk.
Mind
Information and support for anyone affected by mental health issues.
Visit www.mind.org.uk or call 0300 123 3393.
National Institute for Health and Care Excellence
The NICE guidelines on the treatment the person you're caring for is entitled to. Visit www.nice.org.uk.
NHS Choices
Information on eating disorders and other mental and physical health issues, different treatment options, and local services. Visit www.nhs.uk.
Rethink
Information and support for anyone affected by mental health issues. Visit www.rethink.org or call 0300 5000 927.
Selfharm UK
A charity supporting young people who are self-harming, which can sometimes occur alongside an eating disorder. Visit www.selfharm.co.uk


You may also find these books useful:
• Skills Based Learning for Caring for a Loved One with an Eating Disorder. The New Maudsley Method by Janet Treasure, Grainné Smith & Anna Crane
• Help Your Teenager Beat an Eating Disorder, by James Lock and Daniel Le Grange
• Eating Disorders: Helping Your Child Recover ed. Steve Bloomfield, published by the Eating Disorders Association